RHD 2021 Year in Review
Filed Under: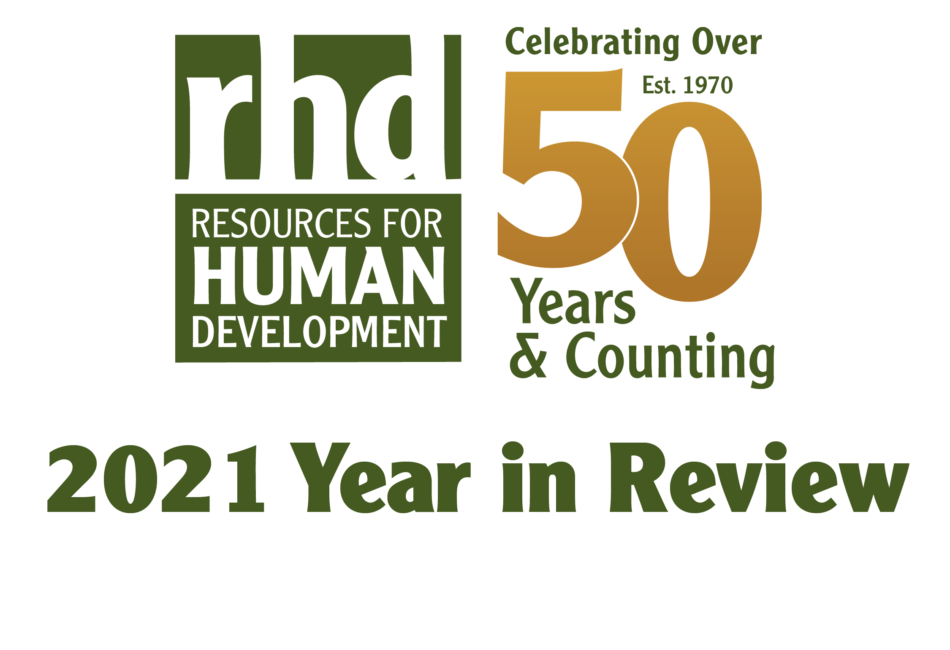 November 29, 2021
January 2021
Historically, RHD celebrates Martin Luther King, Jr. Day organization-wide with tributes and community service projects honoring Dr. King's life and legacy. This year we hosted a virtual panel discussion that took place on January 18: "Is His Dream…Our Reality?" The event focused on the iconic "I Have A Dream" speech, the current political and social climate, and what we can do individually to move forward.
February 2021
During Black History Month, RHD honored African American history and traditions with six spectacular virtual events, including an exploration of the origins of African American cuisine, a discussion about the roots of the black church, and the impact of black economic power.
RHD was proud to be named one of America's Best Mid-Sized Employers by Forbes. In the wake of the global pandemic, the magazine recognized that mid-sized businesses have had to navigate countless challenges. The companies that made their list "have risen to the occasion, adapting in ways that benefit both their customers and employees." We appreciated the honor!
The Diversity, Equity, and Inclusion (DEI) Trauma-Informed Speaker Series kicked off its "Racism as Trauma" talks. This series provided valuable information and conversations about the impact of racism on physical and mental well-being. The speakers featured were Dr. Rashidah Abdul-Khabeer, who led a forum on "Racism as an Adverse Childhood Experience," and Dr. Roy Wade of UPenn and CHOP, who discussed "Trauma & Children in a Racially Charged World – Enhancing Resilience."
March 2021
In honor of International Women's Day on March 8, RHD celebrated all month by highlighting women who shattered ceilings and stereotypes as champions of positive change. The women recognized were:
Gloria Steinem – A pioneer of women's liberation.
Kamala Harris – The 49th and current vice president of the United States.
Kizzmekia "Kizzy" Corbett -. Through her work at the National Institutes of Health, she led the team that helped design the Moderna COVID-19 vaccine.
Maya Lin – Renowned architect and sculptor.
Stacey Abrams – The first black woman to become the gubernatorial nominee for a major party in the United States and the first black woman and Georgian to deliver a response to the State of the Union.
Malala Yousafzai (aka Malala) – A Nobel prize-winning, Pakistani human rights activist whose advocacy supports the education of women and children in northwest Pakistan.
Rachel Levine – President Joe Biden formally nominated to be assistant secretary of health.
Alexandria Ocasio-Cortez – She was elected to the U.S. House of Representatives in 2019 to represent N.Y.'s 14th District, making her the youngest woman ever elected to Congress.
Jill Biden, Ed.D. – Educator and current First Lady of the United States, who served as Second Lady under the Obama-Biden administration from 2009 to 2017.
April 2021
RHD's continued commitment to the overall well-being of the individuals in our community-led us to publish suggestions to help prevent the spread of COVID-19 (e.g., the Four "W's – wait and don't go out if you have symptoms or have had close contact with someone with COVID-19, wash hands, wear masks and watch your distance from others) and strategies to manage anxiety and help cope with COVID fatigue.
The Family Practice and Counseling Network (FPCN) and nurse practitioner Tarik Khan were in the news for their frontline efforts in the fight against COVID-19 within Philadelphia's most vulnerable communities. Khan was interviewed by MSNBC's "The Last Word" on his race to give Philadelphia's homebound residents COVID-19 vaccinations before the doses expired.
May 2021
The Family Practice and Counseling Network (FPCN), marked a lifesaving milestone bypassing the 10,000 mark in providing COVID-19 vaccinations to Philadelphia's most vulnerable communities.
Diversity, Equity, and Inclusion (DEI)'s First Cultural Celebration Day took place on May 21. The virtual festivities acknowledged and honored the diverse identities and cultures within the organization that define RHD.
June 2021  
Center for Creative Work's collaboration with Urban Outfitters was launched. Garments designed by five CCW artists were produced for a limited production through the retailer's website.
RHD's Connections newsletter debuted. Produced by the marketing department, Connections features the latest RHD happenings with breaking news, program highlights, event updates, RHD initiatives, special announcements, wellness tips, and more every month.
RHD celebrated Pride Month and highlighted LBGTQ heroes who have paved the way for countless others in the fight for the freedom to be themselves.
Marsha P. Johnson and Sylvia River – Marsha and Sylvia were transgender and gay rights activists, who were also self-identified drag performers within the Greenwich Village Street culture.
Billy Porter – Emmy, Grammy, and Tony-winning actor who was the first black, gay man to win an Emmy for Outstanding Lead Actor in a Drama series for Pose.
Alexya Salvador – A trans woman in Brazil, where violence against LGBTQ people has reached an all-time high.
Tammy Baldwin – The first openly gay U.S. Senator.
The Stonewell Riots — Historic event when police raided the Stonewall Inn, a gay club in Greenwich Village, resulting in patrons, staff, and neighborhood residents taking to the streets.
Jessamyn Stanley – A internationally-acclaimed leading voice in wellness, a yoga teacher, body positivity advocate, and writer based in Durham, North Carolina.
RHD partnered with Temple Health, Health Partners Plans, and Keystone First on Housing Smart – the first program of its kind in the Philadelphia-area aimed at improving the health of homeless patients by providing them with housing subsidies and support services. As RHD CEO, Marco Giordano explained, "RHD is proud to be part of another innovative collaboration that provides life-changing services to Philadelphia's most vulnerable populations and takes trauma-informed care to the next level."
In honor of Pride Month and in recognition of the work they are doing in the LGBTQIA+ community, a $10,000 donation was presented to RHD Morris Home by national clothing retailer Anthropologie.
The sixth annual Philly Pours event was held virtually on June 23, featuring a fun and interactive session with Master Mixologist Nate Rogers. Philly Pours benefits RHD's mission to support people of all abilities with effective, innovative, and person-centered programs – addressing behavioral health, intellectual and developmental disabilities (IDD), addiction recovery, children and families, and people experiencing homelessness.
July 2021
RHD's Board Chairperson, Diane Menio, was included on the City & State's Pennsylvania's Power 100 list! With health care as the biggest issue of the last year-and-a half, this list was developed to recognize the public officials, health care executives, innovators, academics, advocates, and activists that have played a part in the state's response and plan for the future.
August 2021
RHD's Lower Merion Counseling and Mobile Services announced a partnership with Genoa Healthcare to offer in-house pharmacy services at the LMCMS location in Bryn Mawr.
September 2021
 RHD celebrated National Hispanic Heritage Month and featured a weekly social media spotlight on prominent Hispanic leaders:
Lin Manuel Miranda – A Pulitzer Prize, Grammy, Emmy, and Tony Award-winning composer, lyricist, and actor.
Dolores Clara Fernández Huerta — An American labor leader and civil rights activist who, with Cesar Chavez, co-founded the National Farmworkers Association.
Alejandro "Ali" Mayorkas – The current U.S. Secretary of Homeland Security–the first immigrant and Latino to lead the department.
Elizabeth Acevedo – The New York Times-bestselling author of The Poet X, which won the National Book Award for Young People's Literature.
RHD's 2020 Annual Report introduced the changes and highlighted the creative ways that we adapted and triumphed during the COVID crisis.
Eradicate Hate, the anti-racism arm of RHD presented "ISMS in the Workplace- Microaggressions." This agency-wide conversation took place virtually on September 24. Led by two experts on the topic, participants explored the legal and psychological impacts of microaggressions on employees.
Main Line Wine Gala took place al fresco on September 30 at the beautiful Appleford Estate in Villanova. The prestigious event featured Marc Nelson of Groth Vineyards & Winery as Honorary Chair and Fox-29 personality Jennaphr Frederick as host. The gala benefited The Center for Creative Works, La Casa, and future RHD initiatives that impact the communities we serve.
October 2021
RHD Morris Home was in the news when WHYY covered the unveiling of a first-of-its-kind, trans-affirming mural, a collaboration between Mural Arts Philadelphia and Morris Home. The piece featured individuals inspired by Morris Home residents, as well as text that the residents helped write. The distinctive design is on a 100-foot wall along Frankford Avenue at West Thompson Street at Cake Life Bakeshop.
RHD's Hispanic Heritage Month celebration continued on October 15 with "Nuestra Historia—Our Story," a forum featuring a diverse and highly-esteemed panel of young Hispanic leaders that shared their perspectives on immigration policy, social justice, LGBTQ+ perceptions in the Hispanic community, and more.
November 2021
RHD's "Unstoppable" Values Day took place virtually on November 18 and recognized the work and Values that bring the organization together and have defined RHD for more than 50 years.